Content marketing is key to a marketing strategy in business, but a content repurposing workflow is the magic formula needed to make it successful.
Content repurposing is simply taking a piece of pillar content and reusing parts of it in different formats across several different platforms.
Instead of working continuously to churn out content every week because that's what you think you need to do, take a minute to think about what content you already have and work with that – by repurposing it with a content repurposing workflow.
THE BENEFITS OF CONTENT REPURPOSING
So why is content repurposing so important? Especially for small business owners?
Revisit Your Work
Tell me if this is you – you write the perfect blog post. You publish it and promote the post on your social media channels. Ove that post has circulated you never mention the post again. Sound familiar? Why spent all that time creating this killer content to not share it again a few weeks on down the line? Doing this makes that first piece of content even more relevant and evergreen. Take your audience to that content.
Get more for less
By repurposing your content into several different formats across multiple platforms means that you are getting more content from that original piece.
Time-saving Technique
Spend less time creating content, which requires time and research, instead spend more time promoting content, which is much quicker in different ways.
Social Media optimisation
Many small business owners struggle to know what to post on their social media platforms, by content repurposing you have at least 8 posts just waiting to be shared from your original content… to each platform.
SEO Love
By sharing your repurposed content across different platforms and linking back to the original content, you are creating backlinks, as well as driving traffic constantly to your website.
Reinforce your authority
Frequency matters in marketing. It is said to take multiple times for a message to sink in. Repurposing content from your original piece will drive home the importance of what you are trying to say.
A Repurposing Content Workflow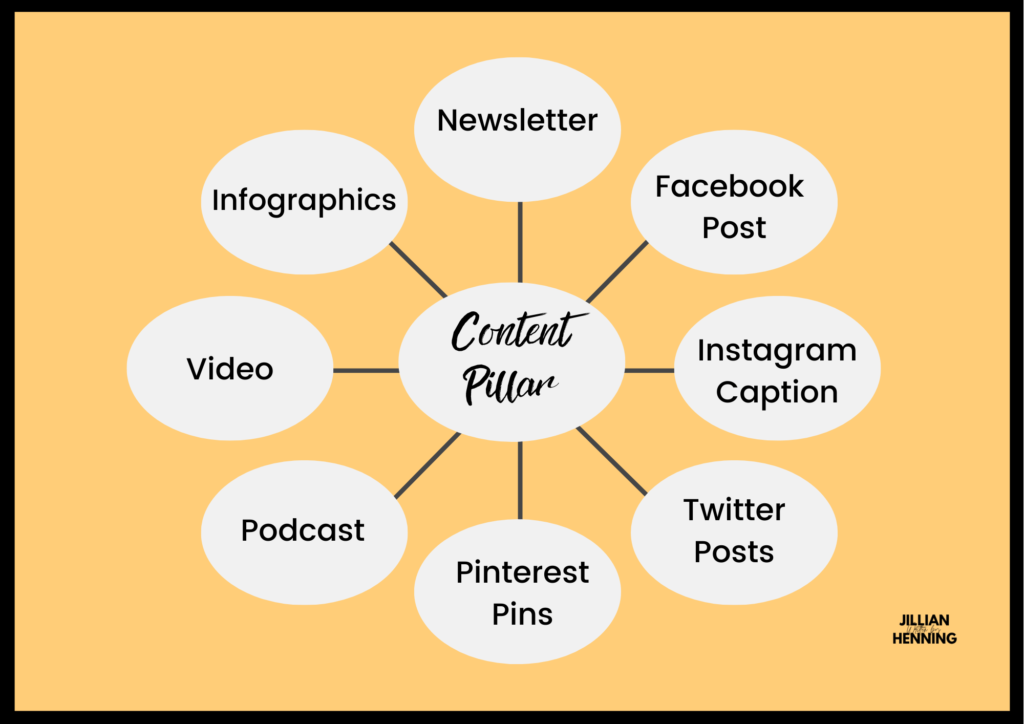 Start with the pillar content
How are you going to create the original pillar content?
Newsletter
You have this great blog post on your site, you can now use this same content to put together a newsletter that goes out to your mailing list.
You may wonder why this is necessary if the post is already on your website? Your audience is not visiting your website every single day looking for fresh content. Anyone that signed up for your mailing list deserves to be spoo- fed your best content as soon as you produce it, so hand deliver it to their inbox.
If the content is long, you can always tease it in the newsletter and add a "read more" link back that takes them over to your website for the full version. This will also increase the traffic to your website.
Facebook Posts
Take your original blog post and break it down into smaller 'mini blogs'. If your post is well-written with a logical flow, then this is easy to do. Each of these mini blogs can be the caption for at least 8-10 Facebook posts. Add a call to action and a link back to the full blog post.
Instagram Captions
Take the Facebook posts that you have created and repurpose the captions for your Instagram feed. You will need to add relevant captions to each post and change the linkback reference to your website by using a phrase such as "link in bio".
Twitter Posts
You can take the caption written for Instagram and shorten it in length for a Twitter post or thread. Think about the most compelling message from your original piece and use that.
Pinterest Pins
Create Pinterest graphics with the main message from your content against a photo background. Link the blog post in the pin description.
LinkedIn Posts
Create a post just like the mini blog used for the Facebook posts – a time saving technique would be to simply cut and paste the Facebook post straight into LinkedIn. While you are copying and pasting, remember to do the same with your entire blog post and turn it in to a LinkedIn article.
Podcast
If creating a podcast series is part of your strategy, then each episode will be your pillar content and you could transcribe your podcast to create a blog post from it. Or work the opposite way and create a podcast based on the content topic in your blog post.
If you do not have your own podcast, then you could put yourself forward as a guest to relevant podcasts and speak about the subject you have written about in your pillar content. Be sure to mention your website and social media channels. These will normally be linked in the show notes too.
Video
Share the main points from your original content in a short-form video clip. Prerecord the clip, turn it into an Instagram Reel, YouTube video, or go live on a social media platform with this function. This is a great method to reach a wider audience.
Infographics
Take the main points from your original content and turn them into bullet points or a mind map on a graphic. This is so much easier for your audience to scan through to get the message. Resize this infographic for social media.
Get the absolute most out of what you have already created through repurposing and maximising its views before you go on to create more and more content.
Related blogs:
6 ways to share blog content on social media