Great Content Starts Right Here.
You are here because you need captivating and quality content for your business, through online blog content and effective social media.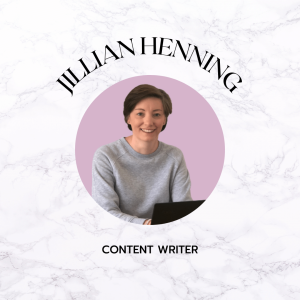 At Written By Jillian Henning, I understand that compelling content is the lifeblood of any thriving business. As a dedicated content writer, my mission is to empower businesses like yours to harness the true potential of captivating storytelling and strategic communication. With expert content creation services, my writing services offer a one-stop solution to elevate your brand's online presence and drive unprecedented growth.
What I Do:
I specialise in crafting captivating blog posts, attention-grabbing social media content, and persuasive newsletters that resonate with your target audience. I carefully tailor each piece to encapsulate your brand's essence, values, and unique selling points. By focusing on your industry expertise and understanding your business goals, I create content that not only engages but also leaves a lasting impact.
How I Can Help Businesses Grow:
A powerful online presence is the key to success in today's digital landscape. By partnering with me, you gain access to content strategies that attract and retain your audience, establish your authority within the industry, and foster meaningful connections. The compelling content I create not only drives website traffic but also boosts search engine rankings, paving the way for increased visibility and customer acquisition.
Why Choose Written By Jillian Henning:
I take immense pride in our commitment to excellence, creativity, and client satisfaction. My passion for the written word and my dedication to understanding your unique brand identity set me apart from the rest. When we collaborate, you'll experience a seamless journey, where your vision becomes my mission. I take the time to comprehend your business goals and aspirations, ensuring that the content exceeds your expectations.
Are you ready to unlock the potential of your business through captivating content? Let me be your content partner, and together, we'll embark on a transformative journey of growth, influence, and success. Welcome to a world of limitless content possibilities!