Collaboration can be powerful tool for your business because it means forging connection with other businesses or services and in turn, connecting with their audience – these are eyes on your business who previously might not even have been aware you exist!
And that is not all…
Collaboration can be all inspiring
It is easy to get stuck in a rut with your business at times. You cannot think of new ideas, you don't know what content to post, you aren't sure how to target a different audience – we have all been there right? That is where a fresh set of eyes on your business can help you level up. Talking about ways in which to collaborate can generate new ideas, trigger new techniques to try, introduce you to new tools that could save you money. You have heard of the saying "two heads are better than one" and this could not be truer when it comes to business. Communicate, share, and discuss information, as going beyond what you do each day to explore the opportunity of collaboration can be really inspiring.
Collaboration can expand your contacts
It is important as a business owner that you express interest in meeting new people through networking opportunities. Businesses can thrive when you make connections and form alliances with others. Just imagine how boring it can become to just talk to and sell over again to the same group. Not all contacts will result in collaboration but every time there is a chance to connect there is also an opportunity, thus expand your network as best you can.
Collaboration is learning
One of the biggest benefits of collaboration is the opportunity to educate yourself on a different business and/or sector. Every interaction you have with someone outside of your business can teach you something valuable. Some of the most successful collaborations involve two professionals who bring together two hugely different skill sets. These different perspectives, and strengths bring so much offering to the table. When this happens, you are certain to be surrounded by learning opportunities.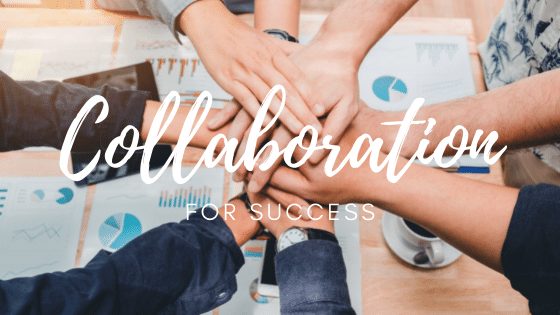 Collaboration can be a money saver
If you collaborate with another business, there is the opportunity to not only share creative ideas, but you can also split the expenses and the workload. You can also save money on the marketing budget if cross-share on social media platforms. You can get more for your money, provided all of the parties involved are equally invested in the success of the collaboration.
Collaboration means power in numbers
If one person is struggling to accomplish something on his or her own, two or three or more people may be able to get it done in no time.
Think about a recent problem you had, what do you usually do if you can? When we get stumped, most of us immediately turn to a partner, mentor, or other trusted resource who acts as a sounding board and helps us work through the problem. Sometimes as a solo person in your own business there is nobody there when you turn around for advice. When you add in new viewpoints and experiences, the result will often transcend what you originally set out to accomplish.
Collaboration can be a simple action
The good news is that small business collaboration does not necessarily require significant time or financial investment if you think creatively.
A coffee shop could place a fresh floral display at its entrance, giving promotion to the florist a few doors down while enhancing the ambiance of its establishment at no cost.
An influencer can be used to showcase clothes for a fashion boutique that is opening and create some user-generated content for the new business to showcase their brands.
A bakery could get involved in a charity coffee money by suppling the buns and scones. This could get PR attention and the attention of the local press for their generosity towards such a great cause.
A team of businesses could come together to celebrate one common purpose. This could be several companies that can link their businesses together and hosting a competition or giveaway. Foe example a list of businesses that supply products or serviced that can tie into National Picnic week could run a competition to win the 'Ultimate Picnic Giveaway'.
Examples of successful collaborations in Northern Ireland
Ted & Stitch with Zara Ceramics
When Sarah Thompson from Ted & Stitch teamed up with Zara McLaughlin from Zara Ceramics – it was a local dream team collab which sold out in 6 minutes! Ted & Stitch teamed their baby blue embroidered sweatshirt with the slogan "Baby it's cold outside" with a limited-edition blue mug made by Zara ceramics, just in time for the Christmas rush, and that is exactly what it was, a rush to get your hands on both!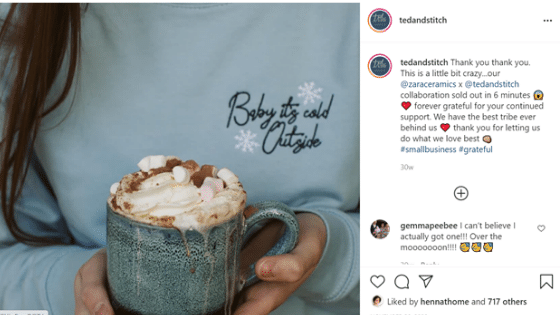 Rosebudschewelry and City and Shore lettering company
When Laura from Rosebudschewelry teamed her baby gift set with Sarah from City and Shore Lettering Company. Their baby milestones cards were the perfect addition to Laura's gift box. Not only do these boxes continually sell out online, but 10% of the sales of these boxes went directly to Little Forget Me Nots Trust to help bereaved parents during infant loss awareness month.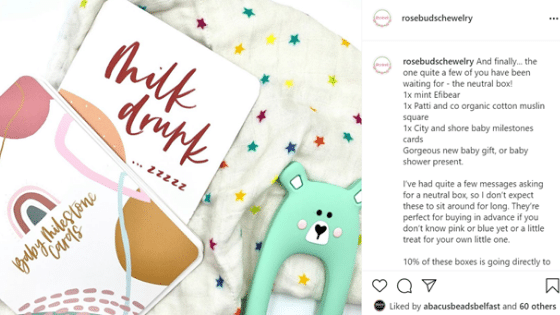 Ooh & Aah Cookies & The Mallow Makers
When Beth and Barbara-Ann from Ooh & Aah Cookies teamed up with Ingrid and Lisa from The Mallow Makers to create the ultimate Smores Cookie pie it was a social media sensation. No Surprise, it was a sell-out. I mean who would not love that sweet treat combination?! This is a great example where the businesses are both in the same sort of industry and combining their products created a very much in-demand product.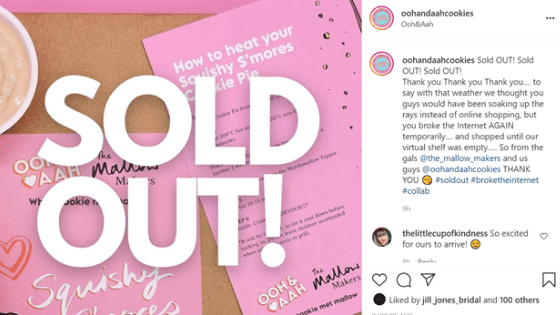 To get the most from your collaboration opportunities, you need to choose the right partner. Look for companies you respect and who are effective with their own marketing efforts. Choose a partner with similar values and goals to you. And of course, look for companies that complement your own.
Related Blogs:
7 Clever ways to organise the perfect picnic