A copywriter is a professional dedicated to producing copy. The copy is usually in short form, but the general idea is that a copywriter writes marketing material for a living. It is their trade, craft, skill—whatever you want to call it. But is that who you need when writing content?
What does a copywriter do?
Copywriting is the art of selling people on an idea, brand, or ideology. The best copywriting fuses the products and ideology of a brand together to create branding. Copywriting is advertorial in nature as it intends to pitch customers to use a brand's product or service.
Short-form content produced by a copywriter would be:
· Ads, online and off
· Slogans and taglines
· Web page content
· Email campaigns
· Television or radio commercial promotional and advertising scripts
· Video scripts
· Catalogs
· Billboards
· Postcards
· Sales letters
· Direct mail letters
· Jingle lyrics
· Social media
However, it might be a content writer that a business requires, not a copywriter.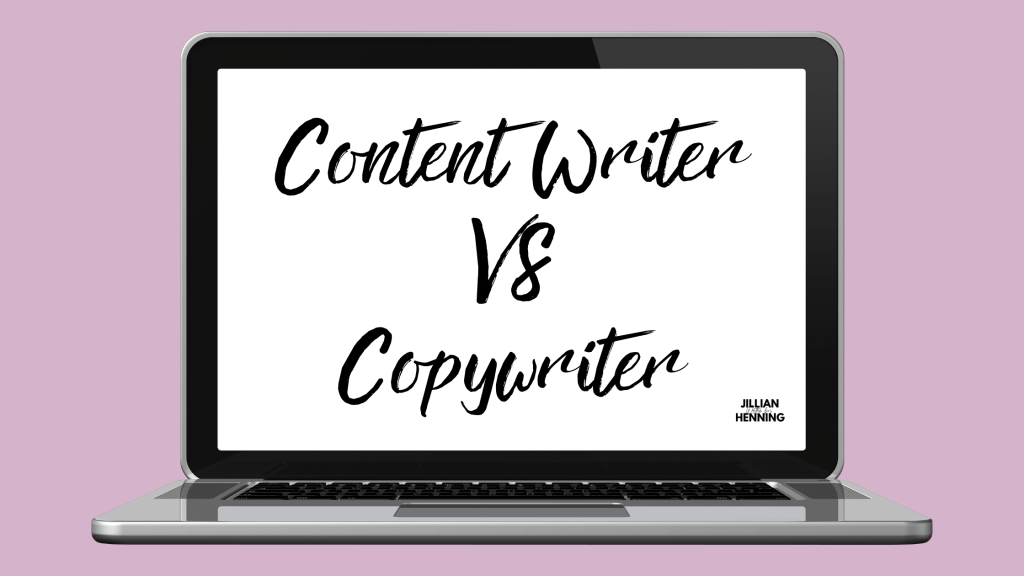 What is content writing?
Content writing is planning, writing, and editing web content, typically for digital marketing purposes. It can include writing for websites as well as content for other specific platforms.
Content writing, like any other form of writing, requires in-depth knowledge and great skill. For an article to be successful, the written content must be original and valuable.
What is a content writer?
A content writer is a person who has good research skills and can get a good grip on the object they are describing. A content writer must be simple and concise in their writing style and have a goal set to get people to read.
Content writers write longer-form content like:
· Articles
· Blog posts
· Newspaper pieces
· Magazine features
· Press Releases
· White papers
· Email newsletters
· E-books
· Books
· Print magazines
· Podcasts
· Television
· Film
How do you know if you need a content writer or a copywriter?
The biggest distinction between a content writer and a copywriter lies in the purpose of their content.
Copywriting is selling your personas on your brand; content writing is subtly telling them about it while delivering valuable content. For brands (and some data-driven publishers), content writing aligns with strategic business and marketing goals to attract audiences and potential customers.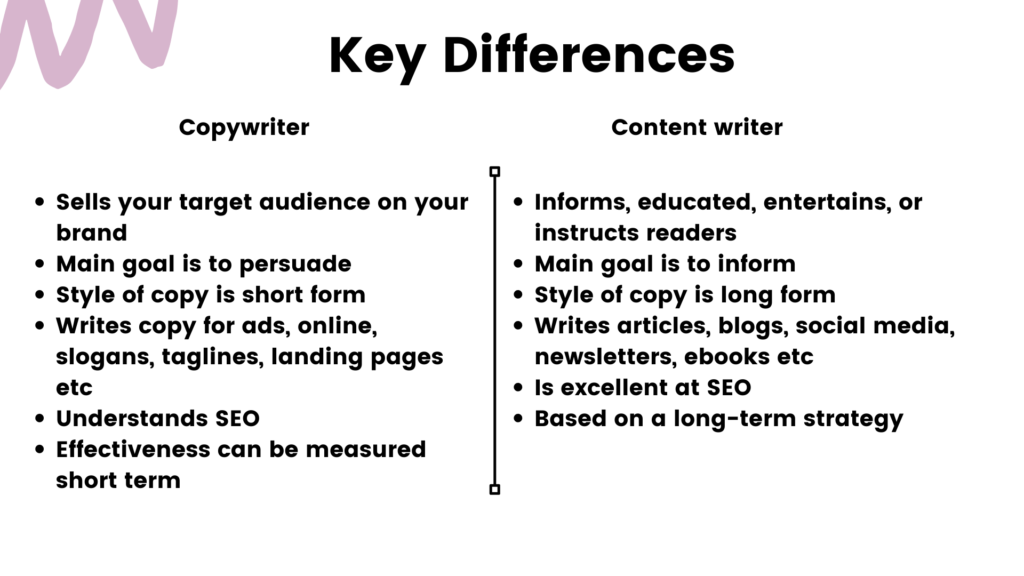 A copywriter sells, while a content writer informs
A copywriter sells your target audience to your brand. On the other hand, a content writer informs, educates, entertains, or instructs readers.
Copy, traditionally, is what makes the sale, Content does everything else. It attracts an audience, engages their sustained attention, demonstrates your ability to solve their problems, and paves the way for an eventual purchase.
Copywriters create a sense of urgency and inspire emotional responses
Copywriters want people to take immediate action. For example, they'll want readers to download something, signup for a newsletter, or buy a product. Copywriters thread urgency and scarcity into a headline to elicit fast action.
Conversely, content writers want to build an engaged audience. As mentioned above, they want to establish trust and position the brand as a reliable source of information.
Content writers lay the groundwork for future sales
Even though they are not trying to sell a product or service directly, content writers are still concerned with selling. Sales are an indirect result of producing valuable content.
Trust is a massive driver of buying decisions in any industry. Blogging can be an effective way to build that trust before having much of anything else to show. The online presence of a blog can have a massive impact. It can drive referrals and signups from customers who otherwise might have never heard of your business or brand.
Content writers contribute to a long-term strategy
You will be able to tell quickly if a copywriter writes a successful ad. Metrics like click-through rates and open rates are a good indication of that.
Content isn't always easy to measure in the short term. Good content strategies (like white hat SEO strategies) take time to pay off.
If that hard truth tests your patience, consider that the value gained content from blogs and articles has a longer shelf life. Unlike an ad or email, blogs and articles have staying power that continues to pay off over time.
Content writers drive organic traffic; copywriters turn that traffic into leads.
This last point sums up the differences between a copywriter vs. content writer. Content writers drive organic traffic, while copywriters convert traffic into sales or leads.
Make sure when it comes to your content strategy and needs that you select the right person for the job based on what your business goals are.
Related blogs:
6 steps to create a content strategy