The majority of businesses are now putting in place their Christmas strategy and this includes designing, editing and planning their content. December can be the busiest month for businesses so it is imperative that content is well thought out in advance and the bulk is pre-scheduled and ready to go.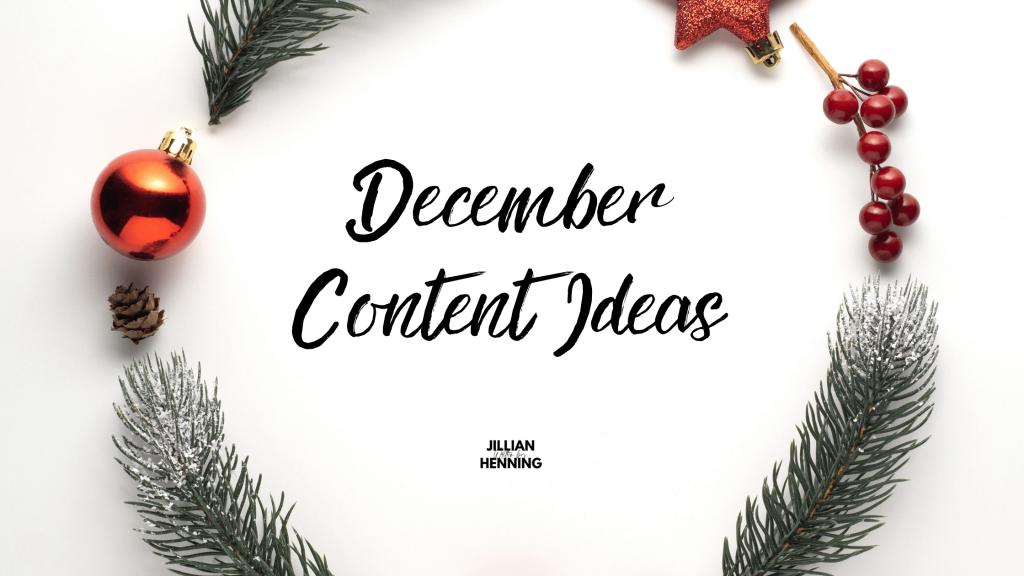 How to create Christmas
Content
Aim to get a whole month's worth of content ready – all of your December social media ideas and blog posts – scheduled, prepped, and ready to go. The following two suggestions should help and you'll find it so much easier if you have a schedule sorted out ahead of time.
Use Templates To Help You
Visual content tools come with templates to help you create for example Canva. Please do not be afraid to use them. If you do not have a design background you should 100% take advantage of these templates as it is the best way to create pro-quality content. All you need to do is edit and make the design your own by focusing on one or two elements e.g. the text, photo/image, video, fonts, or colours. Avoid changing too many elements at once or run the risk of ruining the design.
Create Content Around The Dates
Create memes, quotes, or images that reflect the day in question. Don't be afraid to add a quote overlay. Here are some examples to get you started
4th December, National Cookie Day #nationalcookieday

11th December, Christmas Jumper Day #christmasjumperday
21st December, First Day of Winter #WinterSolstice
24th December, Christmas Eve #ChristmasEve
25th December, Christmas Day #ChristmasDay
26th December, Boxing Day #BoxingDay
30th December, No Interruptions Day – Last Work Day of the Year
#NoInterruptionsDay
31st December, New Year's Eve #NYE & National Champagne Day #nationalchampagneday
20 ideas for Christmas Content
Every piece of content should be something that engages your audience and looks great for your brand. Here are some suggestions for each day, have fun with it and alter it to your industry.
Song lyric quote– Get into the Christmas spirit by creating a graphic around a Christmas song and tying it back to a message to your brand. You could make it funny or have an employee sing it – a great way to show the business personality
Discount promo– Show any discounts you are currently offering in the run-up to Christmas.
Industry tip– Give a tip or trick relevant to your industry but do it with a Christmas spin on it.
Go live– Use Facebook live to talk about what you like to do during this season. Talk about your service or product and promote!
Season of giving– Share any charities you are planning on giving to as a company or individually for Christmas.
Testimonial for the holidays– Use a testimonial or review and put a holiday spin on it (Santa was good to us this year….here is an amazing testimonial)
Thank your community– Post a video thanking your followers/Customers/Clients for all that they have done for you in the past year.
Post your holiday hours– Sounds simple, but it's very powerful. Create a graphic listing your holiday hours to let people know when you are available this season.
Share your wins – Create a graphic or video about your success stories for this year (or what you are thankful for!)
Holiday contest– Try a photo contest with your customers. Ask them to take photos and tag your business. Create a little hashtag like #christmasfunin(yourstorename) #holidayswith(businessname) and enter the participants in a random drawing for a discount or prize.
Provide a gift guide– What's on your list this year? This would make a great video, and you can tie in products and services to what you offer.
It's Christmas! – Not everyone celebrates Christmas, so consider a graphic or video that says "Happy Holidays!"
Next Years Trends – Show up and coming trends for the next year in your industry.
Christmas Packaging – If you use any special gift wrap or offer this service talk about it!
Christmas Shipping dates – Be sure to let your customers know your holiday shipping dates and when the last date for Christmas delivery is.
Balancing Business – Show how you are balancing your business in the run up to Christmas through the multiple departments you have.
New Year Goals – Show what your number one goal is going into the new year and how you plan on achieving that.
Work Traditions – Share a work tradition that happens in your business – a jumper day, Christmas lunch for everyone or secret Santa ideas.
Christmas Tree – Show your office Christmas tree or get your employees to share theirs if they are working from home.
Make a Christmas hamper – Put together a festive hamper and raffle it off for charity or donate it to a local school or nursing home.
Use this month to connect and engage with your customers, clients, and followers. It is a fun month to show what is at the heart of your business through storytelling. Try and remove some of the corporate barriers that are normally up throughout the year, this will in turn bring your customers along with you into the new year. Just have fun with it.
Related Blogs:
How to generate content from Awareness Days